Chiron has his first cold. He started sounding a bit piggy-like in his breathing Tuesday and was breathing really rapidly by Friday, so we took him in. The good news is it's not RSV! The bad news is there definitely was some junk in his chest and so they sent him for chest x-rays.
At first he found the baby chest x-ray chair to be interesting, but then he decided it was not fun: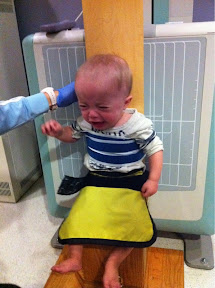 The chest x-ray showed some stuff going on, but was not pneumonia and so we decided to manage him at home with nebulizing. Even decided not to so steroids yet.
So, here's my dilemma. How do I nebulize him happily? The first few times he did it alright, but I think that was largely due to the novelty. We have tried it with him swaddled. We have tried letting him watch tv. He's just unhappy about it now. Any advice?
He's been happy throughout, except for the whole nebulizng thing!
- Posted using BlogPress from my iPhone